The Laurels of Mt. Pleasant Staff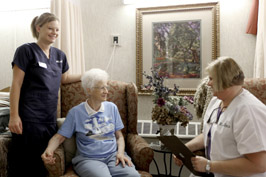 What differentiates one skilled nursing & rehabilitation center from another? The answer is... the people who work and reside there! The people set the tone, the atmosphere, and the expectations. At The Laurels of Mt. Pleasant, we take great pride in ensuring that everyone feels like part of our family, and that they are treated as special "guests" in our home.
The Laurels of Mt. Pleasant employs a team of highly qualified medical professionals, including a Medical Director, Registered Nurses, Restorative Care Nurses, a Wound Care Nurse, state tested Certified Nursing Assistants, Physical Therapists, Occupational Therapists, and a Speech Therapist. Our on-site Rehab, Dietary, Social Work, and Activities departments provide personalized and compassionate care to each guest. From the moment you walk through the front doors, the warmth and caring of the staff will begin to gain your trust and confidence, as they strive to exceed your expectations.
Unlike other facilities that use "contracted" staff members, each member of the team at The Laurels of Mt. Pleasant is directly employed, not "contracted". Each Team Member takes great pride in portraying "The Laurel Way of Caring", as they strive for excellence in providing only the highest standard of care and services to every guest, and to every family member and visitor. Come on in! Visit a while! Let us show you our very best... let us show you The Laurel Way.
Jason Alexander, Administrator
Jason grew up in the Atlanta area of northern Michigan. He attended Northwood University in Midland, where he earned his Bachelor's Degree in Business Administration. He began his hospitality management career in the hotel industry, but was introduced to the health care profession in 2003 when he started as an Admissions / Marketing Coordinator for a nursing care facility. This position fueled his interests and he went on to obtain his Nursing Home Administrator License in 2005. He served for several years as the Administrator for a Sault Ste. Marie based facility and brings that experience to his Administrator position at The Laurels of Mt. Pleasant.
Jason shares, "I enjoy getting to know the residents and their families and making a difference in their lives in what is generally a time of greatest need. The hospitality and health care industries are a lot alike except you have more of chance to make a difference in health care, which is why working in long-term care is a passion of mine. When I'm not working, I enjoy spending time with my wife and our 2 young children. Other pastimes of mine include watching sports and travel."
Ronda Hillman, RN, Director of Nursing
Heather Parkhurst, Director of Marketing
Heather Ashley has a Master's Degree in Management and currently serves as Director of Marketing. Heather also has an Associate's Degree in Radiology from Mid Michigan Community College, and a BA from Spring Arbor University. Heather is committed to the community and is a proud member of the Mt. Pleasant Rotary club and Co-Founder of C.A.R.E (Compassionate Associates Reaching the Elderly). Heather's experience in the medical field and joy of working with the elderly brought her to Laurel Health Care Company.
Wayne Wagner, Rehabilitation Services Director
Wayne Wagner has a degree as a Certified Occupational Therapist Assistant with 17 years of experience. He has a diverse background of therapies including geriatric care, acute hospital, school based, and outpatient therapy including skilled hand therapy.
Wayne enjoys assisting residents in gaining their highest abilities back in order to return to their home. Wayne's diverse background provides him the skills to lead the therapy team and make them the best in the area. He also enjoys camping with his wife, outdoor activities with his 2 children, and watching sports.